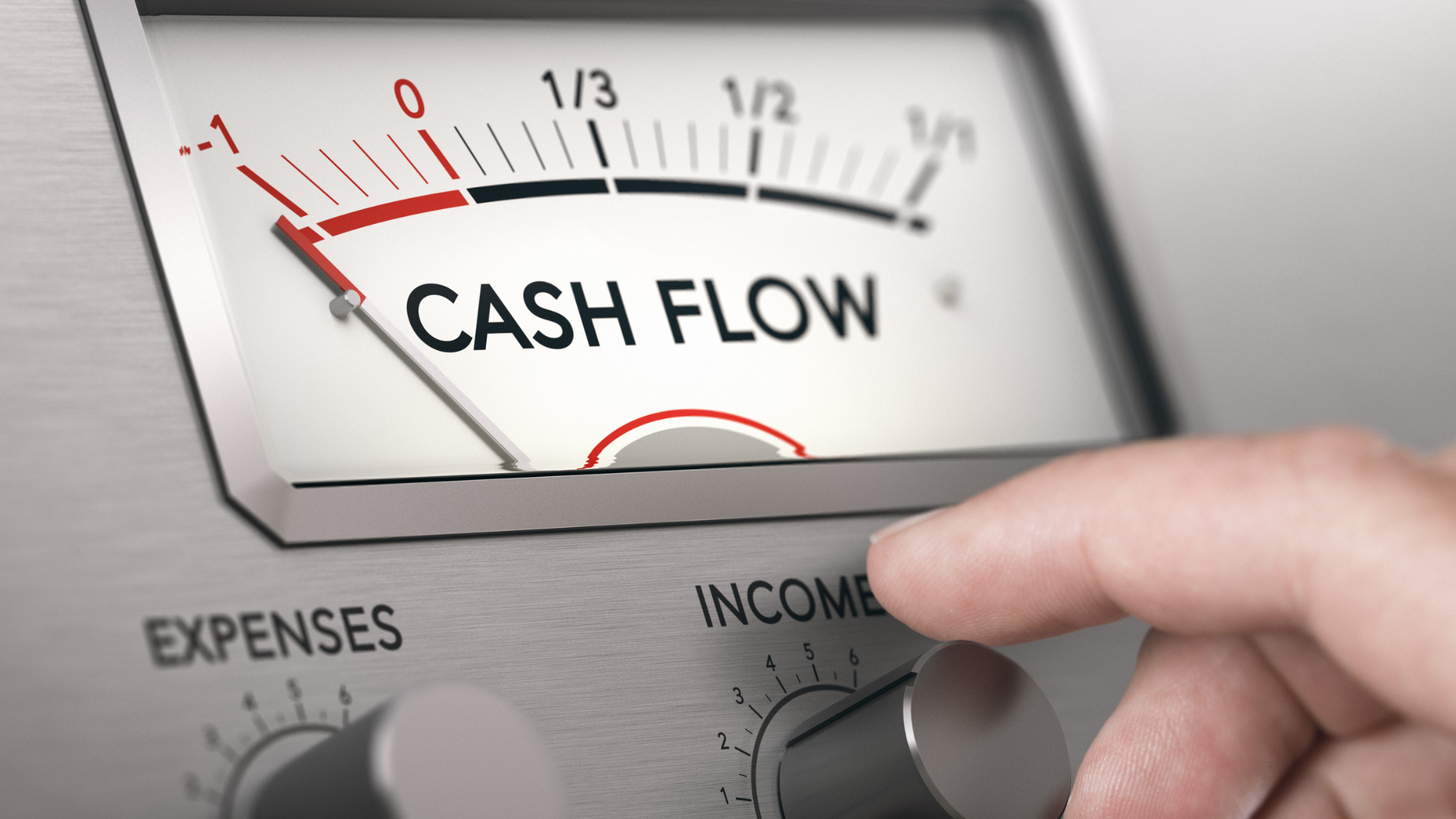 Meeting Topic
Introduction to Meeting Topic:
Create New Opportunities to Thrive in Recession By Judy Celmins
In this week's contribution, Judy Celmins shares research that can help us understand customer buying behaviour during a recession! Read the article and consider giving YOUR take on what your opportunities are in the current economic environment with your group.
---
As headlines shout doom & gloom, remember that primal human drivers don't change, whatever the economic climate.
Understanding customers & consumption
There's an excellent 2009 Harvard University study by Professor John Quelch and Research Associate Katherine E. Jozc on How to Market in a Downturn.
They identified four segments of customers in a recession …
Slam-on-the-brakes: reduce all types of spending.
Pained-but-patient: the largest segment, who economise, but not aggressively.
Comfortably well-off: maintain spending, but more selectively and less conspicuously.
Live-for-today: tending younger, who mostly extend their timetables for large purchases.
And also described four categories of products & services consumption …
Essentials: central to survival or well-being.
Treats: which customers view as justifiable.
Postponables: can be put off.
Expendables: unnecessary or unjustifiable.
So 16 possible combinations of customers and consumption to help plan your strategy.
This chart, derived from the article, shows 13 Recession Behaviour scenarios with potential opportunities, depending on your type of business and target customer.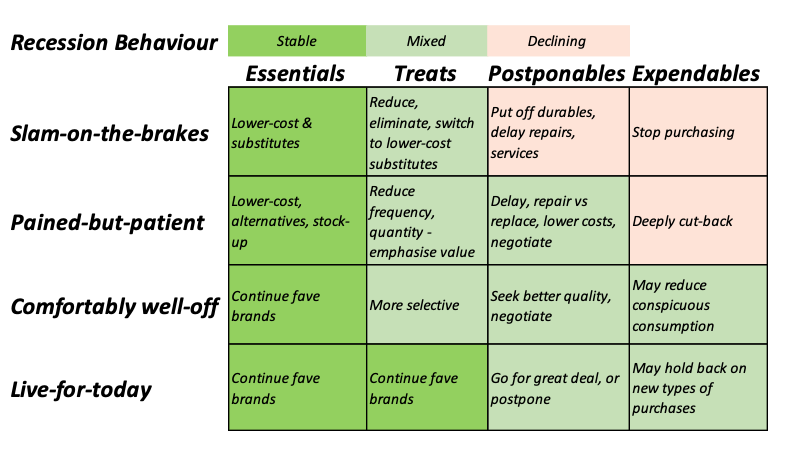 The importance of Perceived Value
As incomes are squeezed and costs go up, people still have to function in life, and fulfil emotional needs as well as practical.
They will look for a way of gaining the same value from a lower cost alternative. And when it comes to Treats, it's human nature to want even a small moment of pleasure, especially in tough times.
Potential tactics
The research suggests ways of adapting your offering to retain customers e.g. from the 'Slam' and 'Pained' segments
Essentials & Treats
Offer smaller pack sizes for less money.
Create a budget 'substitute' version.
Promote 'bonus' packs to encourage stockpiling.
Emphasise 'dependability' of your product or service.
Promote Treats as a small 'you deserve it' indulgence.
Reward loyal customers, even if they buy less (e.g. loyalty points, discounts, freebies).
Promote Treats as affordable alternative to more expensive luxuries.
Postponables
Challenge 'false-economy' behaviour with facts if the outcome is unsafe.
Promote repair services, offer tips on how to extend the life of their purchase.
Provide a simpler version.
Grow the relationship with advice & insights
Keep the customer relationship going, even when they're not spending, to stay top-of-mind as conditions ease.
Maintain awareness and build trust with free advice on money-saving tips relating to your category. Even in an Expendable category, you could provide a temporary DIY alternative, with trust-equity repaid in future sales.
People turn to friends and community in difficult times – why not be a trusted friend in a recession? Use social media to stay in touch with customers and grow your relationship with practical content.
What's the role of your product or service in their life? Have a chat with five of your top customers on what you can do to help them.
The Takeaway
Look for opportunities in primal needs. The only limit is your imagination.
I'm Judy Celmins, and I'm a marketing strategist with Thriveablebiz I can help you thrive, contact me judy@thriveablebiz.com
This is an extract from a more extensive article you can find here.
---
Next Meeting Topic
Introduction to Meeting Topic:
The Scary Times Cashflow Survival Guide By Nicki Sheehan
In this week's article, Nicki Sheehan reminds us that this too shall pass! Even though the news is full of doom and gloom about recession, there are things you can take control of in your business to come out the other side even stronger than when you went in! Read the article and share your thoughts with your group around which of these suggestions could be most useful for YOU right now.
---
Running a business can be tough and you might be struggling to make ends meet right now. It's natural to feel stressed and anxious when money is tight and the news is full of talk about recessions.
But a recession does not have to mean disaster for your business. There are plenty of businesses who thrive during a recession and plenty of businesses which lose money during boom times.
With the right mindset, strategy & actions you can weather this latest economic storm and come out the other side stronger than ever.
Here are some practical tips to help you manage your cashflow and survive these challenging times.
Firstly, face your fears head on. It might be tempting, but don't bury your head in the sand and hope the problem will go away. Assess the state of your business, allow yourself to freak out, and then move on.
Facing the worst possible outcome will give you a level of peace and clarity to enable you to dig deep, be resourceful and get through the tough times.
It's also important to understand the landscape.  Create a simple cashflow forecast by listing all your expenses that are coming up and the money you expect to come in, along with the expected dates. Focus on the next 4-12 weeks and use this information to make decisions about what you need to do next.
Next focus on what you can control. Don't worry about factors outside your control. Instead concentrate on creating a cashflow forecast, delivering the best value and service possible, managing stock levels, controlling and cutting your expenses and make sure you keep your marketing activities up.
Think about tax and talk to your bank. If you're struggling to pay your taxes you could set up a payment plan or use tax financing. The key thing is to keep IRD informed about what's going on. If in doubt chat to your accountant about the best options for you.
Talk your bank early and be honest about your situation. If you have loans, look at whether it's worth switching to interest only or considering a repayment holiday. Short term loans or OD extensions can be helpful in a pinch.
Mange your debtors and creditors. Send invoices frequently and don't be scared to follow up on late payments. Make it easy for customers to pay, offer discounts for early payment and consider requesting deposits or partial payments up front.
Pay your creditors on time if possible as we all know the pain of being on the receiving end of customers who are slow payers.
Finally, ask for help with managing your cashflow sooner rather than later. Don't be afraid to ask for help managing your cashflow. Talk to your accountant sooner rather than later. They have the skills to help you, but the longer you leave it, the harder it can be to turn things around. Having a sounding board and practical advice can help cut through the overwhelm and get you back on track.
Find out how Nicki (Chief Encouragement Office at Trio Accounting) helps her clients here:  https://www.trioaccounting.co.nz/

Print This Post