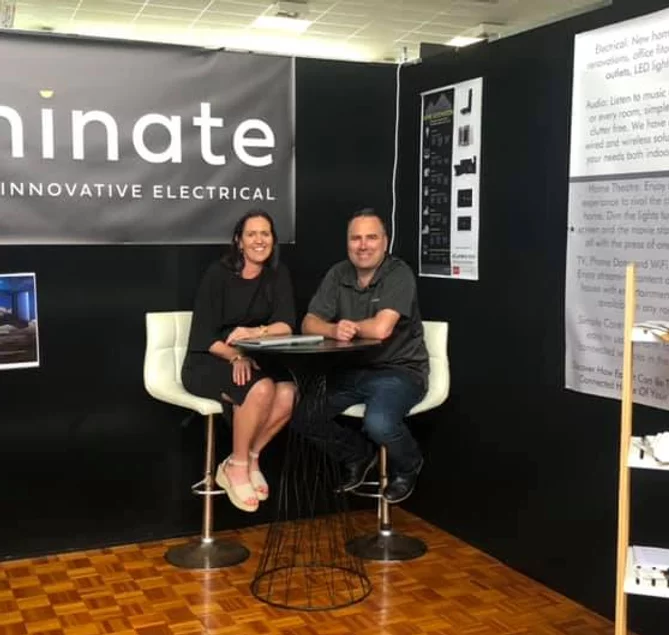 Can you describe your business in one or two sentences?
Illuminate Electrical is an electrical company covering your standard electrical needs in residential, commercial, new and existing homes along with home automation services, including lighting, audio, security and data. We offer a comprehensive electrical and automation all-in-one offering and are known as innovators and distributors of cutting-edge technologies.
What drove you to start your business/get involved in this industry?
I have always wanted to run my own business – completing a Business Diploma and Bachelor of Business then heading into the sales force in both the corporate world and smaller companies, gaining the training and knowledge then becoming a mother of four, I was then inspired to join my husband in his Electrical business.
What do you love about running your business?
After leaving my career and becoming a mum of four, I was lucky enough to be a stay at home mum and enjoy my children and the fun activities and become very involved in Playcentre. Once my youngest started school I joined my husband in his electrical business which was established 19 years ago, having a business background I was able to jump in and work alongside my husband and grow our business together.
What have been some of your biggest challenges?
Unfortunately in our industry at the moment there is a real shortage of tradesmen, we are ready to keep growing however the lack of qualified tradesmen is putting a halt on at the moment. Another is the increases in product and the availability.
What is your biggest ambition?
My biggest ambition is to grow the business with my husband and to get to the level where great systems are in place and the company can carry on without us in the day to day running.
What does success look like to you?
Success in my eyes within our business is to see satisfied clients and the excitement in their eyes with our products and home systems. We also love to hear the positive feedback clients give of our staff.
If you had to walk away from the company tomorrow, what would you be most proud of?
An established business where we have had customers on board for many years and continue to recommend us. I am really proud of our branding and our loyal staff.
Who inspires you and why?
My parents inspire me, watching them put the hard yards in and become very successful. The successful businesses developed and built by my father and his work ethic is very inspiring – "work hard, play hard".
What growth have you experienced being in Venus?
I have been in Venus a few years now, the friendships made and being the only female in our company has given me the opportunity to network with likeminded women, both supporting each other and developing our businesses together.
What's your favourite pastime when you are not working?
Spending time with my family and our continued adventures, socialising with friends, spending time at the beach and travel.
Kate Megget