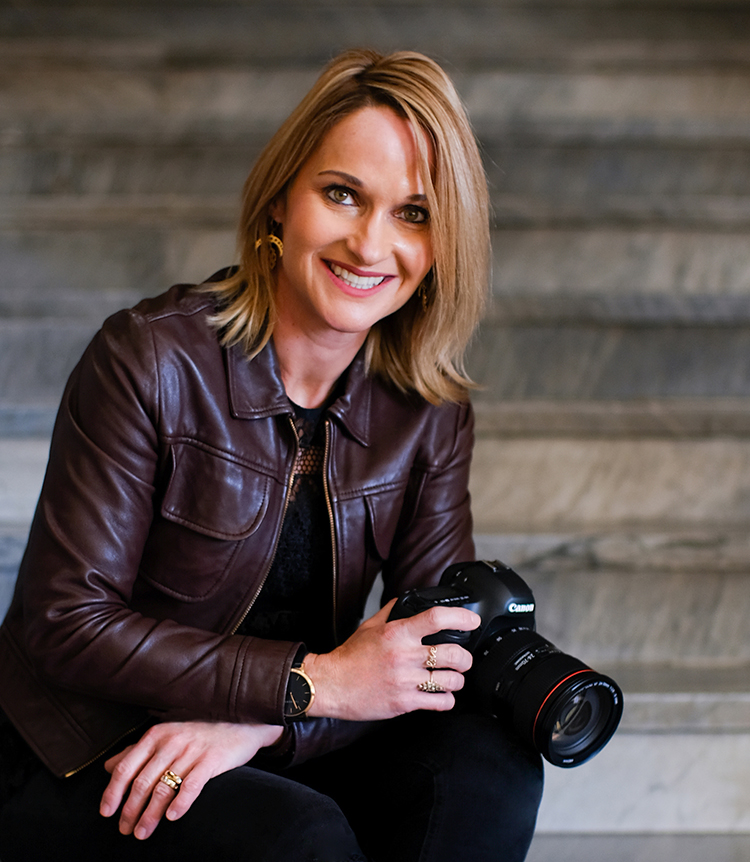 Can you describe your business in one or two sentences?
I am a professional photographer and photography educator.  I am happiest when I am behind the lens photographing people or sharing the love of photography for those who want to learn a new skill, or build on their existing photography knowledge.
I particularly love doing personal branding photo shoots and headshots, and seeing business people show up in their business and connect with both prospective and existing clients.
What drove you to start your business/get involved in this industry?
I have always been creative, and really enjoy working with people, engaging with them and making them feel comfortable so photography is a great amalgamation of those traits.
Photography was always a serious hobby and I was doing odd jobs and had several short courses, but it was while living in London 19 years ago I decided to make the career switch and left a successful corporate career to complete a photography diploma at City of Westminster College.
What do you love about running your business?
I love seeing people transform during a photo shoot. Most people don't like having their photos taken, but my experience and super power is making people feel relaxed and guiding them through the whole process from clothing advice, planning the shoots to suit their needs, and posing them on the day to look their absolute best. Seeing the increased engagement and positive response people get from using great images of themselves rather than stock images is the best feeling.
When teaching photography I love seeing peoples skills blossom, along with their enthusiasm and excitement growing with their own creativity.
What have been some of your biggest challenges?
In the early days in London after graduating from my photography diploma I had to start at the bottom of the ladder in the photographic industry in London. Low wages and long hours were the norm, and I treated that time like an apprenticeship learning and soaking up as much as I could. I always knew when I returned to NZ I would set up my own photography business, but there has been a lot of hard graft over the years in building up a successful business.
What is your biggest ambition?
For more people to realise the importance, particularly in this digital age, of being represented authentically in their business and having dynamic images that represent themselves and their brand. First impressions last!
I wish to continue having a thriving photography business both providing beautiful images  and teaching and mentoring budding photographers. I moved into a beautiful new studio space this year which was a big ambition, so next step is to take on some staff eventually – I would love to hand over the retouching!
Continuously learning and up skilling and challenging myself is really important to my craft. Photography is ever changing with new technology and trends, and it is important to stay on the ride and enjoy the journey.
Outside of my daily work I want to continue to do exhibition projects that tell important and powerful stories.  I am passionate about photography's ability to convey stories in a way that often words can't. I have a portrait exhibition of NZ nuclear test veterans (Operation Grapple – We Were There) which was a personal project that has been exhibited continuously around NZ since 2020. It is now up to it's fifth opening and currently on show at Canterbury Museum. Telling stories and creating connections with photography and continuing to work on heart projects on subjects outside of my regular work is really important to me.
What does success look like to you?
Repeat clients that come back to me regularly to update their photos – especially those clients that were very unsure about being photographed initially. Referrals from clients who sing my praises is always a fantastic validation that I am doing something right!
Who inspires you and why?
My husband says him!  It is true, he has a great work ethic and manages to pack a lot into his working hours and has always been better than me at keeping boundaries between work time and family time. I am also inspired by successful women in business and there are lots of great people in the Venus who provide inspiration and help me to strive to improve as business owner. A quote I heard recently by Oprah resonates with me: Surround yourself with only people who are going to lift you higher." This is similar to the saying that you become the sum of the five people you spend your most time with. So true!
What growth have you experienced being in Venus?
Venus has been a fantastic journey of growth for me – both personally and professionally. I was terrified of public speaking when I first joined, and found the meetings overwhelming. It prompted me to join Toastmasters and work on my communication skills which has been hugely beneficial in all aspects of my life. Venus has also made me a better business person, as being surrounded by inspiring business women rubs off and helps make you more focused on your own business
What's your favourite pastime when you are not working?
Daily exercise is key to feeling good, and spending time with my family is really important to me. My ideal way to switch off is to head to a wild west Coast beach with the family and our dog or a walk around Cornwall Park which we frequent. I love switching off in the garden, drinking wine, and eating great food – not all at the same time! Beach holidays are the best as I am a real summer person, and the best thing about winter is skiing.
Denise Baynham