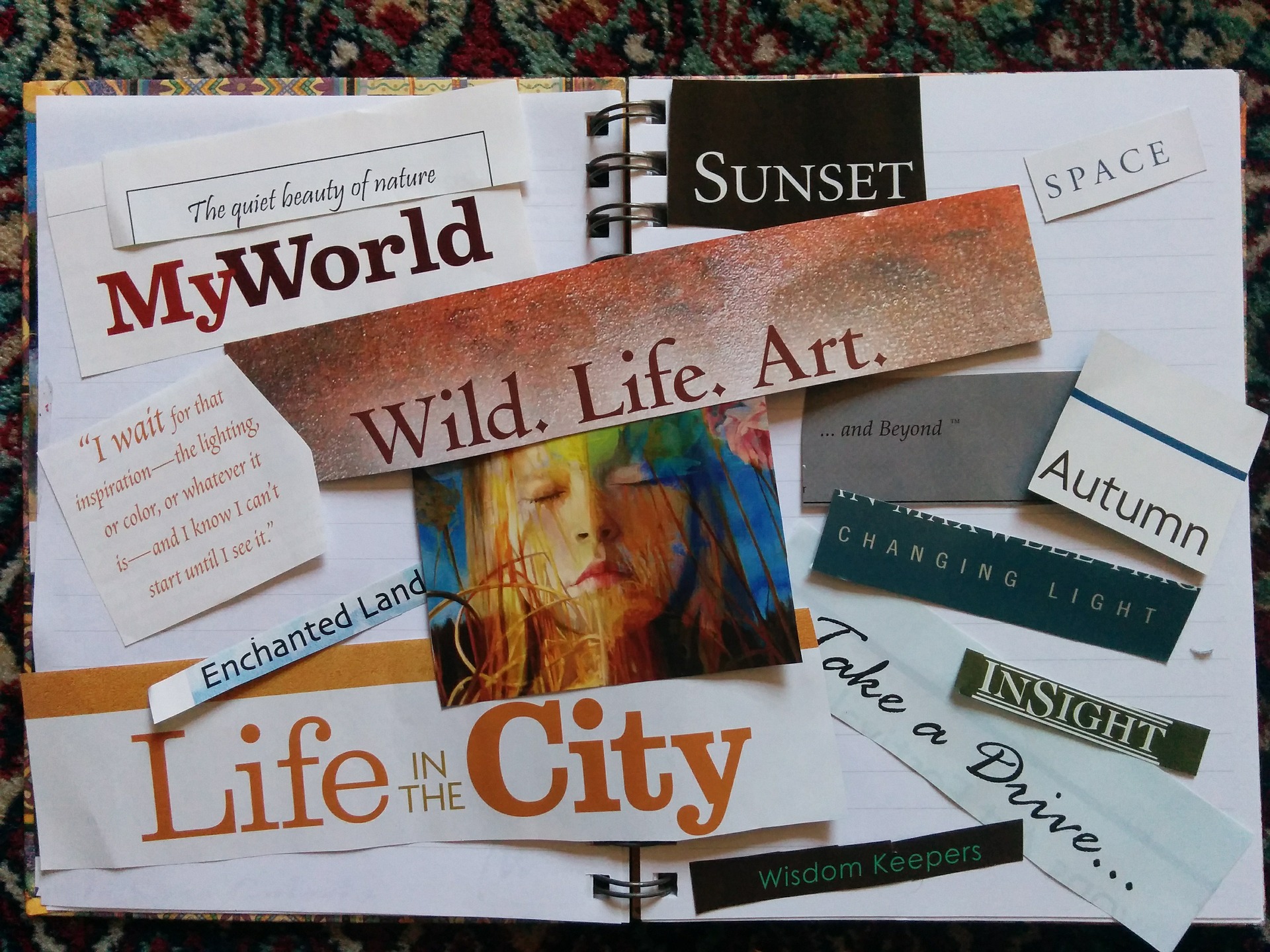 Ten years ago I mapped my vision. I was ready for a change of pace and a different lifestyle. I was feeling uncertain about what I wanted, or how to get started and I was ready to set a new direction, so I got to work to create my vision collecting images and words that would help create a big picture of what I wanted my life to look like and feel like. The exercise provided a chance to reflect on my skills, qualities, strengths and experiences, to tap into my dreams and aspirations, and to prioritise what was important.
I still have the large sheets of paper folded up and carefully stored, and every now and then I get them out, reverently unfold them and the content of those pages still resonates with me and gives me purpose today.
It's worth taking this time to create a vision, to decide what you want to paint upon your canvas of life, so you know:
where to focus your time
which opportunities to pursue and seize
which to decline and
the sorts of people you want to share your journey with
Creating a vision for life and working intentionally towards it puts you in the driver's seat, so instead of just letting life happen– living life by default – you intentionally set out to design the life you want to live.
This process is an opportunity for you to also look at what no longer fits or serves you well.  By clearing out, we make space so we can step back and see with more clarity. It can be really freeing and can give us vitality and space to move forward. Sometimes having a coach or support person to help do this clearing out is a good place to start.
Recently when guiding a group of women through the process of mapping their vision, I decided to take the opportunity to work alongside them to create a new vision board and to revisit my "vision".  It was a magic experience of reflecting and sharing as we put together our "visions" each setting a direction for our future.
It's important now that we have patience and understand that the miracle of progress can seem invisible. We will need to keep faith, feel gratitude for whatever turns up each day, and surround ourselves with people who will support us and help to bring our emerging vision to reality.
It can take some time to form your vision. Sit quietly with it, and revisit it. Treasure it. Your vision is a very special thing you can do just for yourself.
Forming a vision can bring a wealth of opportunities to your life, whether you are a person who normally sets goals or not. You move forward with a sense of purpose of where you're at and where you're going.
I have my own proof that the opportunities people often experience after forming a vision can be simply amazing. You may find that ideas, people and events come into your life to make your vision happen. When opportunities present themselves, check in with the strength you have within yourself to go with them. If it feels right, then run with it. It's sometimes only afterwards that you see the benefits that come your way as a result of an opportunity. These opportunities can be stepping stones leading to greater things.
I know you want to create your very best life, and you're on your way to doing just that.  I would love to provide you with a gorgeous tool to help you create your vision and set a new direction for your future. Go ahead and sign up to grab this FREE booklet to help you:  Map My Vision
You can find out more about Jo here:  http://www.jorobertson.co.nz